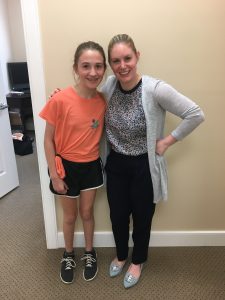 What improvements have you noticed in yourself since you started vision therapy?
"I remember when I first came into therapy I was reading at a first grade level. I was always tired and having double vision. I remember walking in to see Dr. Fulmer's kind smile and with her and Dr. Z's help they got me back to were I was before my concussion.  I went from having double and blurry vision to being able to see and read things clearly.  I never would have been able to do it without them and I want to thank them for all their help and for supporting me the whole way."
Would you recommend vision therapy and why?
"I would totally recommend it! All of the people here are amazingly sweet and kind.  You definitely see improvements from when you start to when you finish. They helped me so much and I am really thankful!"